CAFKA 2009: Truth and Consequences
Various Locations, Ontario
18 September to 4 October 2009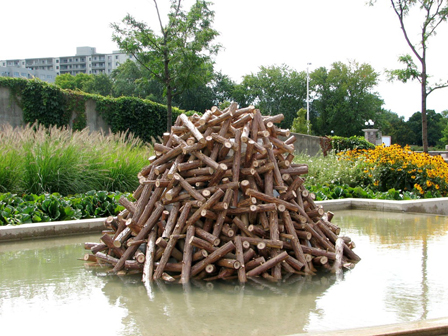 David Diviney Lodge (2009), Installation view
This September saw the seventh edition of the now-biennial CAFKA art and performance festival. The festival, created in 2001 by Ottawa artist Andrew Wright (who then lived in Kitchener) and an artist board, refocused a fading annual art-and-craft sale that took place at Kitchener City Hall.
Today, CAFKA is still artist-run. Its artistic director is Kitchener-Waterloo artist Rob Ring, its executive director is veteran curator Gordon Hatt and its principal venue, as ever, is Kitchener City Hall. Designed by Toronto architecture firm Kuwabara Payne McKenna Blumberg in 1993, the stripped-down modernism of Kitchener City Hall offers near-gallery settings. This year's festival included other public and private sites as well as parallel exhibitions in a number of regional galleries. To facilitate getting around to view all 26 sites, the festival helpfully provided visitors with rental bicycles.
The festival theme of veracity played out in artwork addressing the current state of mischievous untruth brought about by digital delivery of just about everything. That state, the festival suggested, may also inadvertently frame our thoughts on civic politics. Zurich artist Pipilotti Rist's entrancing video shorts were projected on two sides of the city hall's tower. In Open My Glade (Flatten), Rist repeatedly smunches her comely face and a great deal of lipstick against a sheet of glass, appearing, in this iteration, to be unhappily trapped inside the building. Toronto's Max Streicher installed his 30-foot inflatable Dung Beetle in the city hall rotunda; the beetle, made of recycled billboard vinyl, was immobilized on its back, and therefore unable to do its job of processing dung. The artwork also relates to the protagonist in Franz Kafka's 1915 novel The Metamorphosis, who wakes one day to find himself transformed into an insect reviled and ignored by his family. Municipal government: isolated, ineffective and unloved?
In behind the rotunda is a prim-and-proper exhibition space that featured Kitchener-Waterloo artist Stefan Rose's stretched horizontal photographs of dry-cleaning establishments in southwestern Ontario: some of these cleaners occupy discreet locations in strip malls, while others have pride of place in a parking lot. Dry cleaners and (the curator may be suggesting) the truth itself are disappearing at a great rate in these office-casual times, and these seemingly antique, black-and-white silver prints—made from unaltered negatives—provide a perfect reminder of same.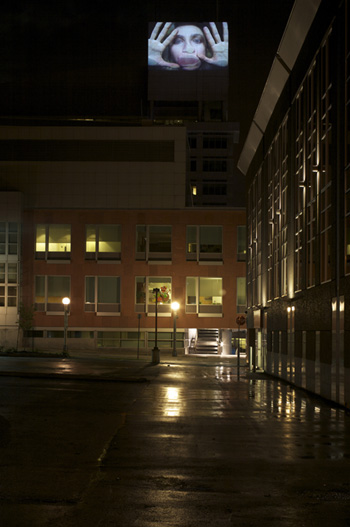 Pipilotti Rist Open My Glade (Flatten), (2000), Installation view
A clunkier look at mimesis was proposed in Tokyo artist Fujiwara Takahiro's mesmerizing mechanical waterfall of rotating bands of coloured squares, Trance Veil, and in London, UK, artist Luke Hart's tragicomic Walking With Synthetic Being Seven (Peg Leg), a performance prop made of synthetic flesh and wood that might be a cross between a turkey thigh and a table leg. Hart strapped the device to one of his legs and hobbled around the city hall's plaza in a bent and awkward position twice daily.
Nova Scotia artist David Diviney's Lodge was plonked down in the middle of a public fountain near the town bus terminal. Diviney's prodigious pile of sawn logs is in fact PVC pipe covered with beads of caulking that mimic wood grain. Just visible beneath the logs are a number of cheap white Styrofoam ice chests. This playful take on hoarding and makeshift housing on a windy street corner suggested another, less cheering, truth—urban homelessness.
The Kitchener-Waterloo Art Gallery's exhibition of UK-based Canadian artist Janice Kerbel's Remarkable posters nicely sums up the relative usefulness of truth in art and the imagination. Commissioned for the 2007 Frieze Art Fair and imitating the scaled-for-dramatic-emphasis typography of 19th-century carnival posters, the advertisements promote incredulous acts of derring-do by female performers. Wickedly funny and riddled with impossible superlatives, the posters looked handsome in their frames and gallery setting. How clever it would have been to also paste them onto hoardings throughout the city, much as they were originally presented at the fair.
CAFKA's development has been bracing, with the festival growing in scope and resolve at each outing. The festival's two-week run is sadly short; but then again, it's much longer than any single Nuit Blanche.

Stefan Rose Pal Drycleaners & Laundromat, Cambridge (2009), Selenium-toned gelatin silver print
"CAFKA 2009: Truth or Consequences." Canadian Art Online: Review. 22 October 2009. <http://www.canadianart.ca/online/reviews/2009/10/22/cafka/>.