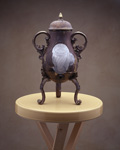 Twenty Glasses of Water
I have made three sculptural installations based on eighteenth-century Meissen porcelain from the George R. Gardiner Museum of Ceramic Art collection in Toronto. Twenty Glasses of Water (2002/03), The Ideal Person or an Equal Mixture of the Four: Blood, Phlegm, Choler, and Melancholy (1997/98), and A Picture of Perfect Health (1997/98).
Twenty Glasses of Water is based on a Meissen covered urn used for serving hot drinks. The historical vessel has two incised quatrefoil shapes or "areas of reserve" that each contain an image: on one side a landscape, and on the other, a picture of tea or coffee being served. My artwork includes twenty slightly enlarged and simplified replicas of the urns in bronze. There is one area of reserve on each of my urns, and in each of these quatrefoil shapes I have painted a glass of water in oil-based enamel. There are twenty different cups and glasses represented, some are treated in a cursory, suggestive manner, and others are more highly finished. Although I have painted glassware for the most part, I have also included plastic, paper and Styrofoam cups. As models, I used the glasses from in my own home. These glasses could be easily found in many North American Homes, family restaurants, cafeterias and thrift shops: the glasses are the inexpensive, moulded variety.
Apart from the painting inside the quatrefoil, the bronze urns are otherwise unfinished with various sharp protrusions (flashing) and air bubbles (nubs), the results of the lost-wax casting process. The somewhat menacing exterior would discourage anyone from picking up the urns, even though the urns' handles invite the viewer to do so.
Each sculpture sits on a plinth modelled after a three-legged, folding patio table. The tabletops are hand-thrown in porcelain, and glazed in an approximation of the yellow used in historical Meissen porcelain. The tripod legs are made in unfinished, 1 x 3-inch pine; they resemble temporary supports or props, even though the tripod is fastened securely (and invisibly) together both beneath the tabletop and at the point the table legs cross. The sculpture appears to be rickety — an obviously weighty bronze urn set on a fragile porcelain table supported by spindly legs.
Twenty Glasses of Water presents a number of contrasts: a weathered eighteenth-century vessel made for use in a very formal tea or coffee service, now serves as a support or frame for a painting of a 20th-century, rather pedestrian water glass. The act of drinking a glass of water has recently become more extravagant, with the appearance of commercially bottled water on the North American market. Taken from natural springs located in rural or wilderness settings, this brand-name water dresses up a normally ubiquitous and undervalued commodity and reassures the consumer that the product is pure, containing no environmental pollution.
I began to paint water glasses at the time of the contamination of the municipal water supply in Walkerton, Ontario. The consumption of the improperly treated water in Walkerton resulted in widespread illness and, tragically, several deaths.
Twenty Glasses of Water was first exhibited in a public gallery in Erfurt, Germany, which is about 170 km from Meissen. Both cities are in the former East Germany where Meissen porcelain is still a contested and resonant symbol of pre-communist era decadence and achievement. In front of the gallery in Erfurt, on the town square, is a new Meissen porcelain retail outlet. The gallery itself is in part a Renaissance building that includes an historical guildhall as one of the exhibition spaces. The covered urns are installed in a loose oval configuration in the centre of the Renaissance guildhall, which provides a further historical frame.
Read "A Glass of Water," a poem by Gary Michael Dault, that has been included in the exhibition, either as a printed handout or vinyl-lettered on the wall
Installation view of Twenty Glasses of Water at Kunsthalle Erfurt in Erfurt, Germany, 2003