Click to enlarge images ↓
Smokin' recreates the painted illustrations for cigarette advertising that appeared (or could very well have appeared) in glossy lifestyle magazines of the 1950s and 60s such as The Saturday Evening Post, Life, Redbook, and Paris Match. In many of the paintings, I depict a man and a woman smoking together in a variety of picturesque and intimate settings: couples pause in a wooded glade with a waterfall backdrop, dine in an elegant restaurant, relax in bed. The rituals of smoking are suggested in a number of unconsciously choreographed (and socially conditioned) studies of the smokers' hand gestures: he lights her cigarette; she takes his cigarette from his mouth; she caresses his hand while he holds his cigarette off to one side. In each painting, I echo the central image of smokers by painting domestic bric-a-brac and natural still-life motifs, such as household rubber gloves, clothespins, fish on a line, and reflections on the surface of water.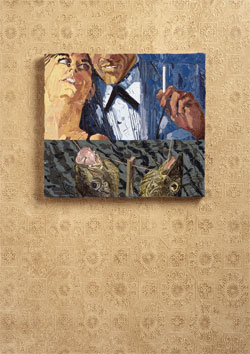 The world I pay homage to is a utopic place where men, women and nature coexist in an apparent state of harmonious, non-carcinogenic bliss. Such a visions of the world are still being produced by Madison Avenue, but painting has been supplanted by photography as advertising's medium of choice. I have made these oil paintings using the palette knife and calligraphic brush techniques popular in both fine art and illustration in the post-war period. My splashy brushwork is intended to lend a disquieting and humourous edge to these confident young men and women while also suggesting that painting, like advertising, now competes in a decidedly more multivalent and messy environment.
Read the essay by Pamela Meredith that appeared in the exhibition brochure: Smokin'. (Art Gallery of Peel, 1998)
Exhibition catalogue: Smokin' (Art Gallery of Peel, 1998)