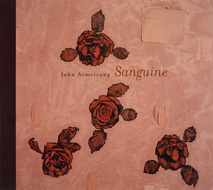 Sanguine
In 1991, I began to work on oval-format paintings: smaller-scaled paintings (47 x 56 cm) with a longer horizontal axis, and larger ones (162 x 132 cm) on the vertical axis. The oval format was used historically in conjunction with portraiture. Perhaps the portrait format was a substitute for the personalized product names I had previously used in my paintings. I used fewer elements in the oval paintings, and distributed a diversity of sources across several pieces in an exhibition.
The oval paintings indvidually feature text, roses, or an ersatz abstract ground. And pattern is emphasized; for example, the same snippet of text is used repeatedly in one painting to form a kind of chant or visual mantra. (The texts are popular maxims or adages that characterize (and even complain about) busy-ness and the fleeting nature of time, such as "Busy as a fart in a mitt" or "I am not an eight-day clock.")
I painted both in oil on linen, and on a number of other supports: photographs, sandcarved glass mirrors, bubble wrap, cardboard, and stacked-up-and-stitched-together billboard posters. The juxtaposition of visibly crafted components — such as the pairing of sandcarved glass roses in a large mirror with a painting of roses of a similar shape and scale — contextualizes painting within traditions of craft, skewing painting's sometimes burdensome relationship to the canon of Western art history.
Read poems by Jill Battson from the Sanguine exhibition catalogue
Read a poem by Gary Michael Dault from the Sanguine exhibition catalogue
Read an essay by Gordon Hatt from the Sanguine exhibition catalogue
Read an essay by Lisa Gabriel Mark from the Sanguine exhibition catalogue